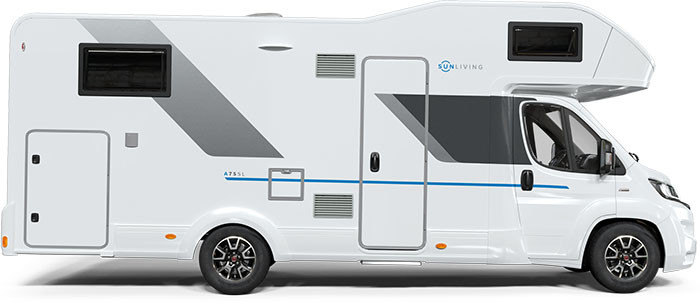 A Series.
RETHOUGHT ALCOVEN MOTORHOME.
Lengths from 5983/5985-7403 mm | Seats from 4-6 / Beds from 4-7Available Layouts: SL - DK - DP - SP
Available in white, silver or black.
Simply great times
2MANY4GRANNY
The A Series is a simply great choice, for large families and groups who love the outdoor life. Like 2many4granny family, the A Series provides loads of space for living on the move and storage for all their gear.
PRACTICALITY
HIDE-AWAY EXTRA SEAT
Our exclusive 'hide-away' seat takes no space but provides an extra seat when you need it most. (* only on S 60SP, S 65SL, A 60SP models)
BIG GARAGE OR BUNK BED MODE
The lowest part of the bunk bed simply truns into the highest available garage box, offering more storage space and one comfortable bed. (A 70DK).
THE SIMPLEST GARAGE BOX MANAGEMENT
Large garages with flat walls and large, easy access doors on both sides of the vehicle as standard, for simpler use.
E-BIKE READY GARAGE
Our garages are equipped as standard with Power-Tower to charge your bikes, e-scooters and other equipment.
SAFE SEATS FOR EVERYONE
Most of our models have the same number of homologated seats as beds, so no one is left behind.
COMFORT
VERY COMFORTABLE OVER-CAB BED
Everyone sleeps well with our extra-spacious 200x150cm over-cab bed, which also serves as extra storage when not in use.
MULTI-PURPOSE MINI-DINETTE
Our mini dinette turns into a really useful and comfortable sofa thanks to the optional cushion. (Only on A 70DK model).
MULTI-PURPOSE MINI-DINETTE
And even into a 7th sleeping place as standard, with still room to exit the vehicle. (only on A 70DK model)
SPACIOUS 142 L FRIDGE
Our 142l standard large fridge on most models means more autonomy and more food storage.
BEDS FOR TALL PEOPLE
Our beds are great for everyone, especially the tallest people, with up to 210cm length.
ABOVE AVERAGE HEAD SPACE
Our motorhomes offer more headroom and the feeling of space, with 210cm interior height.
ERGO BATHROOM
Ergo bathroom with sophisticated ergonomics and spaciousness is almost undetected when not in use.
USER FRIENDLY FLAT FLOOR
Our perfectly flat floor without steps offers more comfort and is more convenient for living and cleaning.
STYLE
OPTIONAL KITCHEN LINING
Go for additional optional kitchen lining for even more design feel.